Post 16 Qualifications
When you leave school at 16 the government states that you must do one of the following:
stay in full-time education, for example at school, sixth form college or further education college.
start an apprenticeship or traineeship.

spend 20 hours or more a week working or volunteering while also doing part-time education or training.
Moving onto Level 3 qualifications at school or college will require a grade 4 or above in five GCSE's, usually including English and Maths.
Below is a guide to the qualifications available to you and a brief explanation of each level.
Qualification level
What they give you
Entry
Entry level awards, certificates and diplomas

Essential skills at an entry level
Basic knowledge and skills

Ability to apply learning in everyday situations

Not geared towards specific occupations
Level One
GCSE grades 3 to 1

level one awards, diplomas and certificates

Key Skills level 1

NVQs

Essential Skills

Music grades 1 to 3
Basic knowledge and skills

Ability to apply learning with guidance or supervision

May be linked to job competencies
Level Two
GCSE grades 4 to 9

Intermediate apprenticeships

Level 2 awards, diplomas and certificates

OCR Nationals

NVQs

Essential Skills

Music grades 4 and 5
Good knowledge and understanding of a subject

Ability to do a variety of tasks with some guidance or supervision

Suitable for many job roles
Level Three
AS and A levels

Access to Higher Education diploma

Advanced apprenticeship

International Baccalaureate

NVQs

BTEC diplomas, certificates and awards

BTEC Nationals

OCR Nationals

Music grades 6 to 8

Cambridge Technicals
Ability to gain or apply a range of knowledge, skills and understanding at a detailed level

Appropriate if you plan to go to university

Appropriate if you plan to go onto a level 4 or above apprenticeship
This diagram below shows you the progression routes through each level of qualification: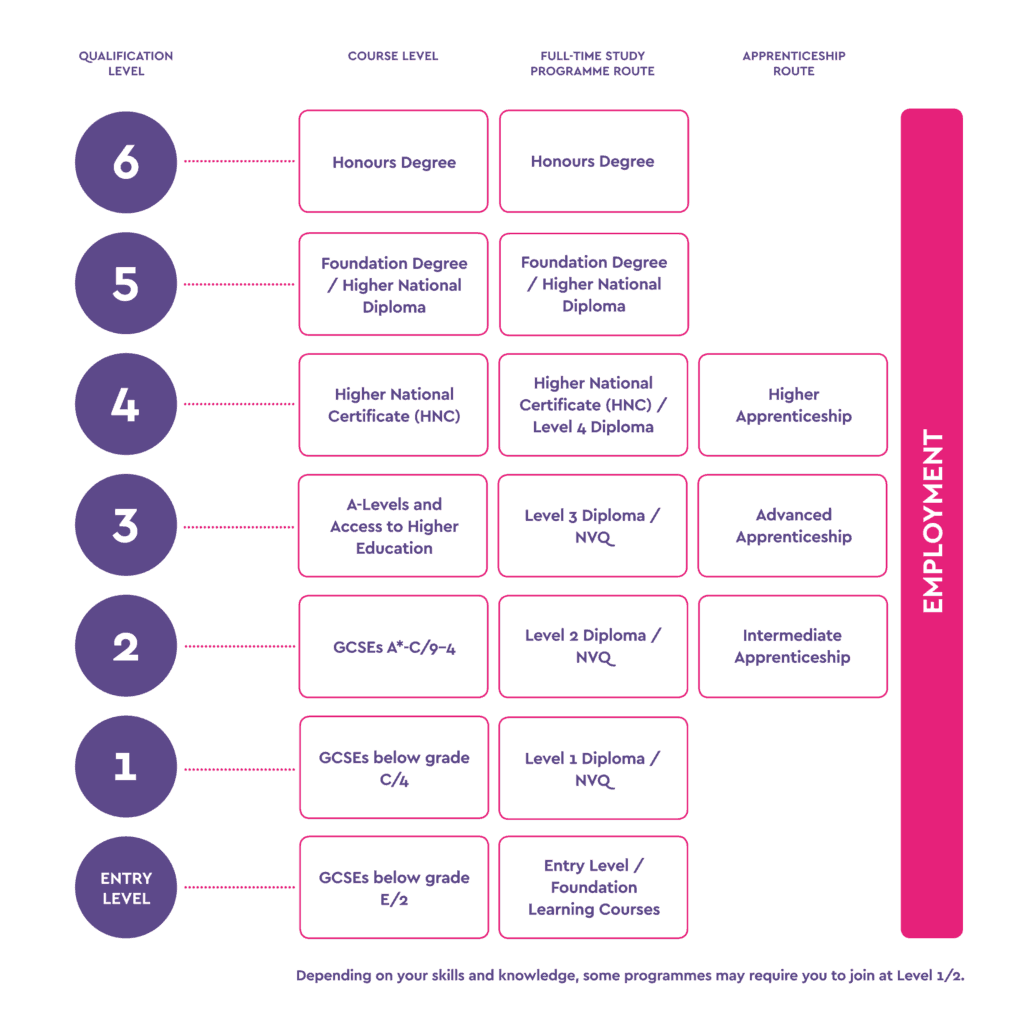 If you have any questions or if you would like further information please email our Head of Futures, Mrs Raine at: [email protected]
Interview and Application Advice
Whether it is an application for a weekend job or for your next steps in education use the following links to gain some expert advice.
Youth Employment UK – CV Writing Tips
Youth Employment UK – How to Write a Great CV
Youth Employment UK – Top Interview Questions and Answers
Useful Websites
https://www.apprenticeships.gov.uk/apprentice/what-is-an-apprenticeship  – National Apprenticeship Website.
http://wheretheworkis.org – Job sectors that make up the North East landscape
https://login.startprofile.com/login.aspx – Match up your interests and skills with jobs
https://www.healthcareers.nhs.uk/career-planning/study-and-training/secondary-school-or-fe-college – Health Careers
https://nationalcareers.service.gov.uk/ – National Careers Service
https://icould.com/ – Careers videos and articles covering most careers topics
https://www.bbc.co.uk/bitesize/careers – Careers advice and guidance.
There is a new qualification to know about – T Levels
T Levels are a brand new qualification designed with employers to give young people a head start towards the future they want. They follow GCSEs and are equivalent to 3 A Levels. The first T Levels launch in selected schools and colleges across England in September 2020 with more following in later years.
T Levels combine classroom work with an extended industry placement to ensure young people gain the knowledge and skills they need to move into skilled work, an apprenticeship or further study.  What the video on Youtube below for more information