Careers, Information, Advice and Guidance at Park View School aims to inspire young people about the world of work and raise their aspirations for learning and career opportunities. All stakeholders need to appreciate that good careers guidance enables students to make informed decisions whenever choices are open to them. It helps them to understand about the world of work and to know what skills they need to succeed. It is important for social mobility, helping to open our students' eyes to careers or choices they may not have considered and it is our collective responsibility.
Our CEIAG Vision
At Park View School we know that it is never too soon for our students to start developing the skills needed to be self-confident, engaged and aspirational individuals. We understand and value the importance of preparing our children for the next stage in their education and beyond that, the world of work. We have high expectations of our student's conduct, behaviour, attendance and attitude, ensuring that all students develop the attributes and positive character traits that employers today demand.
Our students will be supported to develop ambitious aspirations and in time, consider a wide range of further study and career opportunities. We will inspire our students through real-life contact with the world of work, to help them to understand where different choices can take them in the future and to become excited about what lies ahead.
We are determined that our students are not restricted by circumstances, location, or gender. We work hard across school and in all lessons to challenge all forms of stereotyping to ensure that boys and girls from all backgrounds and diversity groups genuinely believe they can take on any career. Our role is to secure a bright future for all of our students and to support them to make well informed, ambitious choices. 
Our Commitment 
Park View School is committed to providing students with a programme of careers education, information, advice and guidance (CEIAG) for all students in years 7 to 13. We will endeavour to follow the DfE statutory Careers Guidance (July 2017) as well as fulfilling all eight Gatsby Benchmarks. The governing body also recognises that it must ensure that the independent careers guidance provided: 
Is presented in an impartial manner 

Includes information on the range of education or training options, including apprenticeships and other vocational pathways 

Is guidance that the person giving it considers will promote the best interests of the pupils to whom it is given
Park View School achieved the Investor in Careers Award in October 2014 which recognises the high quality provision of CIAG in the school. This provision has since been developed further by the implementation of the eight Gatsby benchmarks for Good Career Guidance
Development of Links and other Policies 
This policy was developed and is reviewed annually by the Careers leaders with overall responsibility for CEIAG based on current good practice guidelines by the DfE, Ofsted, the CDI/ACEG Framework and the Gatsby 'Good Career Guidance' Benchmarks.
The policy for CEIAG supports and is itself underpinned by a range of key school policies especially those for teaching and learning, assessment, recording and reporting achievement, character education, citizenship, PSHE Education, work related learning and enterprise, equality and diversity, gifted and talented, looked after children and special needs/LDD.
Objectives and Implementation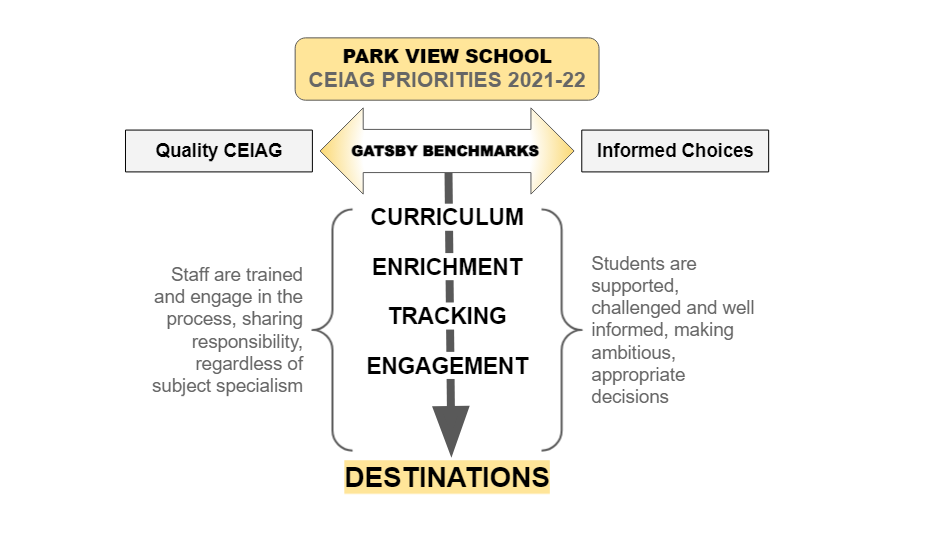 Learners' Needs
The careers programme is designed to meet the needs of all learners at Park View School.   Activities are differentiated and personalised to ensure progression in their career learning and development, and to strengthen their motivation, aspirations and attainment at school.
Entitlement
Learners are entitled to impartial and confidential CEIAG which is person-centred, delivered by trained staff and which meets professional standards of practice. The programme will raise aspirations, challenge, stereotyping and promote equality and diversity. Every learner, each year, will meet at least once with a member of the wider CIAG team and we will track these meetings through SIMS to build up a clear picture of the aspirations of our learners; this will be done through SIMS with the support of Jan Carr.
As a school we are committed to the 'The Baker Clause' – supporting students to understand the full range of education and training options.
'Schools and colleges have a responsibility to set students on the path that will secure the best outcome which will enable them to progress in education and work and give employers the highly skilled people they need. That means schools and colleges must act impartially, in line with their statutory duty or contractual requirement, and not show bias towards any route, be that academic or technical. They should promote a full range of technical options. Schools have an important role in correcting the imbalance in careers information which means that in years 9 and 10 far fewer students have been spoken to about technical choices in comparison to academic routes, and only 4% of young people start an apprenticeship after their GCSEs. Schools must open their doors to other education and training providers, in line with their statutory responsibilities under the 'Baker Clause', putting in place a range of opportunities for providers of technical education and apprenticeships to talk to all year 8 to13 pupils about their education or training offer. This is vital to ensure that all pupils are aware of the benefits of apprenticeships, T Levels and other approved technical education qualifications and can consider them, alongside 8 academic options, when making decisions about their next steps.' 
Management
The Careers Leader, Ms Hannah Keighley and the Head of Futures, Mrs Sam Raine will coordinate the careers education programme and this area is supported by a link Governor. Work experience (Year 10 for one week and additional extended placements) is planned and implemented by the Careers Leader and Head of Futures who work closely with Futureworks to organise and check placements. Year 12 work experience is coordinated and monitored by the Sixth Form team and supported by the Head of Futures and Ms J Thoms (KS5 Guidance Manager). 
Staffing
All staff will contribute to CIAG through their roles as tutors and curriculum subject teachers. Personal Development CIAG sessions for Year 7-11 are delivered throughout the academic year as part of the timetable and are led and planned by the Careers Leader and Head of Futures working collaboratively. Year 12 and 13 CIAG is tailored to students' needs and planned by the Director of Sixth Form and Heads of Year 12 and 13 and Mrs Charlotte Reynolds for the apprenticeships students. The CEIAG programme is planned, monitored and evaluated by the Leads in CIAG. Careers information is available in the school Library and on careers databases which are networked across both school sites. 
Curriculum
The careers programme includes careers education sessions, career guidance activities (e.g. group work, drop-in and individual interviews), information and research activities using the school computer networked databases, work-related learning (including Year 10 and Year 12 work experience), and individual learning planning/ROA/E Portfolio activities. Careers lessons are part of the school's Personal Development programme which is allocated weekly curriculum time. Other focused events, e.g. a further/higher education fairs and visits are provided at different times of the year. Learners are involved in the planning of career learning. Their views are collected using student voice/surveys. All students have been signed up to Globalbridge online media platform as a mechanism to record all their experiences relating to Gatsby benchmarks. This is monitored by Mr Chris Hobbs (citizenship coordinator) and tutors are encouraged to remind students to access this at regular intervals. Compass+ is our planning tool and this online platform will also allow us to evaluate progress against the Gatsby Benchmarks.
Partnerships
The school has partnerships with the following organisations: 
Durham Works – Progression Adviser support for students in Year 11 with EHCPs

Improving Progression of Young People Team (IPYP) – Student Destination Activity Surveys

DEBP – Durham Education Business Partnership – careers events

Futurework – Work experience own arranged placement checks

NECC (north east chamber of commerce)

New College Durham – Services for schools tasters and activities (various)

Future Me (NECOP) – Aim Higher activities

Newcastle University – Raising aspirations/STEM activities

Inspiring the Future – Employer engagement

North East LEP – Regional Careers Lead Network

TICE – This is Creative Enterprise – Enterprise Adviser Network support

BITC – Business in the Community – employer engagement and mock interviews

Muckle LLP – mock interviews

INVESTIN – Work related/placed learning 
Other links with local FE and HE providers are made when required. Links with parents / carers are maintained using a variety of methods (school website, letters, options evenings, Post 16 Evenings, Park Views publication). Details of links with school are put on to the Park View Partners database.
The Gatsby Benchmarks
The Gatsby Benchmarks are a framework of eight guidelines that define the best careers provision in secondary schools; at Park View School we are firmly committed to meeting all eight of the benchmarks and we use this to underpin our monitoring, review, evaluation and planning when developing our CIAG provision. By tracking students from year 7 to 13 through the use of a digital portfolio we hope to be able to secure appropriate and exciting final destinations for all of our students and to make sure they have the tools they need for their next steps; the Gatsby Benchmarks will be the vehicle that supports and drives our intent and implementation.
With the benchmarks as a guide, we will endeavour to provide a bespoke, robust, dynamic and creative careers programme for every student by implementing the information and resources available into curriculum and extracurricular provision. Our goal is that every student is provided with all the careers information, advice and guidance they need and through this we hope to make a positive and long lasting impact on their future.
Following the Gatsby pilot further details and the full report can be viewed in the following document: Gatsby Pilot Evaluation Park View School.
Resources
Funding is allocated in the annual budget planning round in the context of whole school priorities and particular needs in CIAG. The Lead in CIAG is responsible for the effective deployment of resources. 
Professional development
The Head of Futures is currently studying for the Level 3 Certificate in Careers Leadership.  She will attend all relevant CIAG training opportunities and network meetings to update knowledge and skills and disseminate information relating to CIAG throughout school by way of meetings, briefings and staff training. There are regular updates and training opportunities for all school staff. Staff training needs relating to CIAG are identified by the Careers Leader, the Head of Futures or by individual request. The school endeavours to meet training needs within a reasonable period of time.
Monitoring, review and evaluation
The school analyses pupil destination information, feedback from pupils, parents and carers to inform its CIAG programme. This programme is reviewed regularly in discussion with the leads in CIAG and the Personal Development team, as well as in the regular meetings with the teaching staff and evaluations through Student Voice. 
Key Staff 
Head teacher: Mr A Finley
Careers Leader: Ms Hannah Keighley
Head of Futures: Mrs Sam Raine